If you've been in the digital marketing game for any time, you're aware of how quickly search engine optimization (SEO) changes and evolves. While most SEO strategies remain relevant over the years, local SEO marketing has become particularly important in understanding what's driving organic growth and visibility online in 2023. That's why it's essential to get on top of your local SEO strategy if you want to stay relevant as a digital marketer or blogger who wishes to drive success within their industry. In this post, I'll provide a comprehensive guide on how to do local SEO in 2023 so that your business is poised for exponential growth in the future.
If you are a business looking to take advantage of digital marketing opportunities, local search engine optimization (SEO) is likely something that should be on your radar. 
This search engine optimization allows companies to utilize various features, such as geo-targeting, geotagging, and localization, to reach customers in their specific area. As a result, relationship building between businesses and their local community can significantly attract new customers while increasing loyalty with existing ones.
To boost website traffic and grow your local customer base, a local SEO plan allows you to connect with and capture customers close by. This strategy is attractive because it doesn't require large advertising budgets or flashy campaigns that could eat away at resources. 
Moreover, the growth potential in locally based search results can be highly lucrative; research has shown that approximately 80% of consumers take their business offline after performing a local search online. In other words, local SEO for companies can be essential for getting found by those looking to buy locally. Ultimately, local SEO search enhances visibility and increases foot traffic for local business owners, leading to improved online success over time.
Local SEO is a specialized technique that helps businesses reach customers in specific geographic locations. By targeting geographical areas, a local SEO campaign can provide greater visibility to small businesses and help them attract more foot traffic. 
Local SEO strategies involve optimizing the content on your website, like titles, meta descriptions, and page URLs with local keywords, such as city or region names. Additionally, local businesses should claim their Google My Business listing and populate it with accurate information about the company so customers can find contact details, directions, and reviews.
It works by including local keywords in content, analyzing the competitor landscape in local markets, optimizing Google My Business listings, building citations and backlinks from local sources, and leveraging social media channels to engage with local audiences. 
Doing all of this local SEO enables businesses to be seen as the top result at the top of search engine page results (SERPs) for customers searching for related products and services in their area. This can be incredibly effective for reaching more potential customers quickly and easily, even if this is the first time they have heard of your business.
The Future of Local SEO in 2023 and Beyond
The future of local SEO in 2023 and beyond looks promising. The technology behind local search engine optimization has rapidly advanced in recent years, offering more ways for businesses to reach their customers than ever before. In addition, the scalability of local SEO means that it is no longer just reserved for larger companies – small and medium-sized businesses can readily take advantage of the same opportunities local SEO offers. 
As the local search continues to evolve, these marketers are becoming savvier in understanding how to take advantage of it for their benefit and using different tactics to target specific customers who are more likely to purchase their products or services. By this year, Local SEO will have evolved even further, with new technologies such as voice search becoming the norm and AI taking center stage, allowing marketers unprecedented levels of granular control over their campaigns.
Businesses will be able to track user preferences and generate more leads through largely automated processes, allowing them to increase the success rates of their campaigns without relying on expensive manual labor. These tools, coupled with an increasingly connected world, could open up an entirely new era of marketing possibilities beyond 2023. The future looks bright for those looking to make the most of their local SEO efforts to grow and excel in our digitally driven world.
Local SEO Keyword Research
Best local SEO focuses on optimizing your website to appear in local search results, so a comprehensive regional keyword strategy is essential to reaching the right customers. Local keywords should focus on location-targeting phrases and variations, including city or street, instead of just country. You can also use geographic modifiers for more specific targeting. 
By carefully researching and incorporating relevant keywords tailored for local searches within your content, you'll make sure users in your area can find your business when they search related terms. Local keyword research is the perfect first step towards getting noticed in local SERPs and improving your overall website traffic from those areas.
1. Find Service-Based Keywords
A great way to identify relevant keywords is by finding service-based keywords that relate to your business and its offerings. For example, a landscaping company can use keywords such as "lawn mowing services" and "fertilizing services," which would be specific enough to attract people interested in what the company offers. By using these service-based keywords in their Local SEO keyword research strategies, businesses can reach those looking for precisely the type of services they provide.
Knowing which keywords to use is essential to all search engine optimization initiatives, especially if you want to rank in local search results. Check search volumes to do Local SEO keyword research and ensure that these are relevant to your target area. Keywords can be tailored to a geographic location alongside industry-specific terminology. 
Understanding what customers look for when searching locally and researching trends specific to the area will help inform keyword strategy. It's also essential to review competitor sites for name recognition, content relevancy, and local link-building successes to build successful SEO campaigns and ensure maximum local visibility for your brand.
3. Check for Local Intent
It's important to remember that when performing local SEO keyword research, you must look for relevant keywords and check for local intent. This means that the words used should be more specific than simply targeting a location and should cater to what type of search query is being used. 
Consider factors like region, language, and culture to help identify keywords that make sense for your particular business and target market. A great way to Check for local intent is to evaluate related searches and consider how someone within a specific geographic region would be likely to phrase their search query. Taking the time to Check for local intent can significantly improve your chances of ranking higher in local searches.
4. Assign Keywords to Pages
Assigning keywords to pages for local SEO is an integral part of optimizing for web search engines. In addition, this technique can help a site to rank higher in searches depending on its geographical location. 
When ranking local SEO, keywords are like making sure that words are chosen, which will inform search engine algorithms exactly what region the business operates in. 
It's good to look into keyword research tools and understand the high-performing ones when targeting this specific niche. Additionally, creating descriptive URLs with these keyword parameters makes navigation easier for users and search engines. With careful planning and attention to detail, you can start enjoying the buzz from efficient local SEO techniques!
5. Research Your Competitors
Researching your competitors when optimizing your local SEO keywords can be a great way to get ahead. Taking the time to look at what words and phrases your competition is targeting is essential for any digital marketing strategy, as it can give you an idea of the most relevant and popular terms for your local audience. 
Researching the keywords used by competitors helps provide insight into what people are searching for in your area and can uncover any opportunities you may still need to consider. Taking the time to do thorough competitor keyword research today will pay off in spades tomorrow!
6. Use Google Autocomplete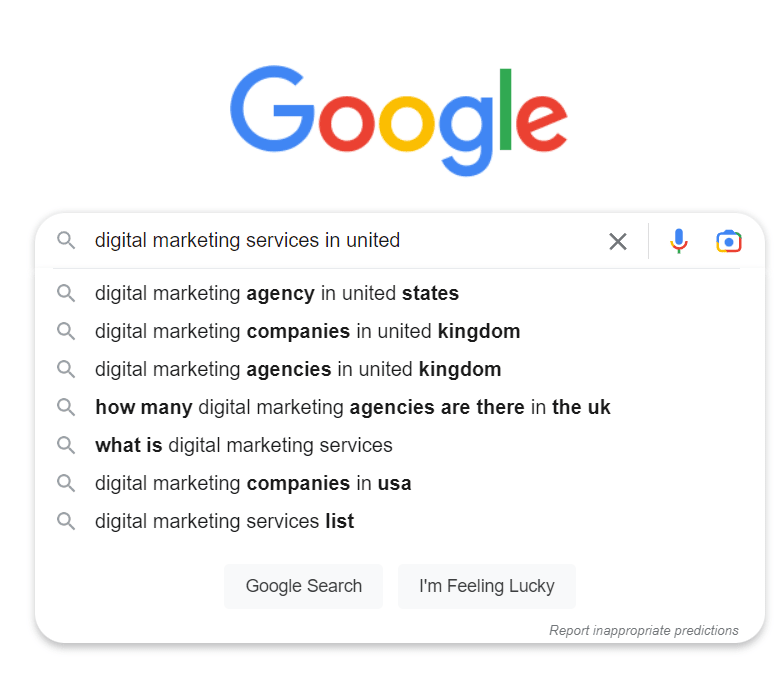 Optimizing your website's SEO is essential with the rise of consumer-to-consumer and business-to-consumer local searches. However, one often overlooked step in search engine optimization is leveraging Google Autocomplete to research relevant keywords and phrases related to popular local searches. You can achieve higher rankings in locally targeted search results using keyword predictions made by Google. 
Use Autocomplete to get more accurate insights into the topics, terms, and questions users search for concerning your business or website. This will give you a better idea of how best to tailor your content for local SEO purposes so that your site ranks higher and attracts more visitors from within your target geography. So use Google Autocomplete for local SEO keywords today and build a more substantial online presence.
7. Leverage Google Keyword Planner
Leveraging Google Keyword Planner for local SEO keywords is essential in any digital marketer's toolkit. Its comprehensive database, keyword research capabilities, and metrics make it one of the most influential and practical resources for optimizing search results. As a local business, understanding which targeted search queries will drive the most traffic to your website is critical. Using Google Keyword Planner can help you discover the best-performing keywords for your SEO campaign. 
Leveraging this powerful resource can ensure that potential customers searching for your business in their area can easily connect with you, helping to increase your visibility and improving overall website optimization.
The Importance of On-Page Optimization for Local SEO in 2023
The world of digital marketing is constantly evolving, requiring strategies and tactics to change as trends come and go. However, in 2023, one strategy that will remain essential for local SEO is on-page optimization. On-page optimization is the combination of technical and creative elements that help improve the visibility of a website or web page in different search engines results, such as through Google, Bing, and Yahoo. 
The process includes creating quality content, optimizing titles and meta descriptions, optimizing URLs and internal links, earning backlinks from reputable websites, increasing user engagement with visuals and multimedia elements, improving page loading speeds, and more. By leveraging on-page optimization tools and techniques in 2023, businesses can maximize their potential to rank higher in local searches, allowing them to attract more organic leads to their websites.
Tips for Creating High-Quality Local Citations
Creating high-quality local citations is a great way to get your business noticed in the local market. There are a few essential tips to follow when making these vital references. First, ensure that the information provided is consistent and accurate across all platforms. All address formats should match and be up-to-date for each citation created. 
Tips for creating high-quality local citations include:
Ensuring that all information across all directories is consistent.
Using accurate NAP (name, address, phone number).
Filling out as many fields as possible in citation profiles.
Providing value to customers who visit these listings. 
Also, remember to use keywords relevant to your business or industry so that others can find you more easily. Lastly, ensure your website URL is included in all local citations and take full advantage of social media accounts where necessary – this will help people find out more about you and encourage engagement. Overall, with careful attention to accuracy and relevancy, you can easily create outstanding local citations that promote your business while helping you reach new audiences.
How to Use Social Media to Improve Your Local SEO Ranking
Leveraging social media to improve your local SEO ranking is a great way to get more digital traffic and conversion potential customers. It can be achieved through the growth and engagement of followers on Facebook, Twitter, Instagram, and other popular platforms. This includes regularly creating exciting content relevant to your industry and interacting with customers by responding to any messages or comments they may leave on your page. 
Taking advantage of these networks' advertising options is also very helpful in reaching a larger audience. It is also beneficial to link content between your website and social profiles to boost discoverability through search engines like Google. Improving your local SEO ranking through social media offers great opportunities for increasing visibility and growing your business.
Additionally, by joining local Groups or engaging in conversations with potential customers on social media, you can increase brand visibility and build trust in the local community. Utilizing all aspects of popular social networks is one of the essential local SEO ranking factors and growing a sustainable online presence for your business.
Top Local Search Ranking Signals You Need to Know
Google and other search engines constantly evolve their algorithms to provide users with the most relevant search results. As a business, you must familiarize yourself with Top Local Search Ranking Signals You Need To Know To ensure your website seizes maximum visibility opportunities in local search engine queries. 
SEO is an ever-changing landscape, and understanding these local search signals can give your business a massive advantage regarding visibility. While no one knows what works best in local search engine rankings, specific movements are essential for setting your website apart from the competition. 
A few more sophisticated signals include:
Local long-tail keywords in your website's content.
Mapping out an area-specific content marketing strategy through blog posts or press releases.
Using structured markup data for sitemaps or product information. 
Even something as simple as double-checking that your business information is accurately listed on Google My Business can make a huge difference in maximizing local visibility. Keep these Top Local Search Best Practices in mind, as they will give you insight into the complex algorithm of local search engine ranking, which can ultimately help draw more attention to your business.
Analyzing Your Local Organic Search Competition
Analyzing your local organic search competition is essential in improving your overall SEO strategy. Taking the time to understand your competition's successes and failures can allow you to create a competitive advantage that will help propel your SEO efforts further. 
You can measure current performance and monitor trends to uncover hidden opportunities you may be missing. In addition, analyzing local organic search competition can provide valuable insights into competitors' actions, allowing you to tweak your approach for maximum visibility and advantage among those vying for search engine optimization excellence.
Analyzing tactics such as keyword usage, backlinks, website design, content optimization, and user experience can provide insight into what areas you need to focus on for success. In addition, analyzing the organic search competition can give you valuable information that you wouldn't otherwise be aware of, which could make all the difference when it comes to dominating the SERPs in your local area.
Why NAP & User Experience Are Crucial To Local SEO
NAP, Name, Address, and Phone Number are essential to local search engine optimization (SEO). Why? The presence of consistent and accurate NAP information on websites signals to search engines that a website is legitimate. Similarly, user experience (UX) also plays a significant role in local SEO. Why? The better the user experience on a web page, the more likely users will stay to view content on the page rather than exit. 
Additionally, having a great user experience on your website benefits your customers and helps with ranking higher; by providing an easy-to-navigate website with quality content that includes internal linking improvements, users can find what they need quickly and efficiently, boosting organic search rankings at the same time. 
This can also impact SEO rank since user engagement metrics are factored into many algorithms used by major search engines. So while having robust NAP and UX elements may seem like a lot of work for small businesses, you'll come out ahead in the long-run with higher rankings in local searches.
What Is A Local Link & How To Find More Local Link Opportunities
Local Links are web-based initiatives that promote regional economic development by connecting businesses, organizations, municipalities, and education providers to local consumers. These links open up opportunities for companies in various ways, such as fostering the growth of local markets, creating better access to services and technology, risking new partnerships, building stronger relationships with customers, and nurturing pride in one's own community. 
To find more Local Link Opportunities, one should reach out to their local Chamber of Commerce or Community Development office, as they generally have resources that can be used to identify beneficial economic developments in the area. 
Additionally, it may be helpful to network with local companies who have already taken advantage of these connections. You will gain insight into possible future projects that could benefit your business by talking with them and keeping an eye on their activities.
Google Maps Optimization is essential to help businesses increase visibility and get more customers. Google Maps Optimization involves:
Optimizing your Google My Business profile.
Creating content related to Google Maps.
Taking advantage of local SEO tactics such as building backlinks and setting up geo-targeted campaigns.
Google's algorithms can quickly identify the best ways to position a business on the map – the key is to leverage those opportunities while also proactively finding how to do Google Map Optimization. 
By building out your Google My Business profile, taking advantage of local ranking signals within search results, regularly engaging with reviews, optimizing images and other content for Google Maps, and diving into targeting options like Google Ads, businesses can ensure that their maps presence will stay high in search results for relevant queries.
Google My Business: How to Completely Optimize Your GMB Listing
Google My Business is an invaluable tool for small business owners looking to spread the word about their products and services. Maximizing Google's powerful platform can drastically improve visibility, lead generation, and customer engagement. Knowing how to optimize your Google My Business listing completely can give you a massive advantage in the modern digital landscape. 
To take full advantage of Google My Business, start by claiming your listing on Google Maps and filling out all essential information such as an address, hours of operation, types of products or services offered, photos, videos, etc. Then, regularly update Google with time-sensitive content like upcoming promotions or events and ensure that all data is up-to-date. 
For maximum reach, use Google Posts for featured offers and product/service announcements. Finally, remember to leverage Google Reviews by responding promptly and graciously to customer feedback. With diligent effort, Google My Business can be a force multiplier – propelling your business into the digital limelight!
Where & How to Get The Right Reviews For Your Business
One of the best ways to get authentic, constructive reviews for your business is to solicit them from customers. Most customers are eager to voice their opinions and experiences, so if you invite them to contribute online reviews, they will likely respond positively. 
Additionally, it would help if you did not underestimate the power of word-of-mouth reviews – tapping into your network and asking friends, family, and trusted colleagues for their honest feedback is still a highly effective way to get helpful insight into your business. 
Ultimately, when it comes to Where & How To Get The Right Reviews For Your Business, there's no one-size-fits-all solution; instead, by employing a combination of online tools and in-person testimonies, you can ensure that both accurate positive as well as constructive criticism will be taken into consideration to help your business grow and evolve.
Tips on How to Do Local SEO in 2023
1. Optimize for Google My Business
Take your business to the top of local searches with Google My Business! This powerful tool can help elevate you above the competition and maximize visibility. To get started, create a verified page, use Google Posts within your account, and ask customers for reviews – making sure to respond personally so that they know their feedback is valued. In addition, by verifying yourself as an authentic entity on this platform, you may be rewarded by being featured prominently in crucial sidebar space on google searches.
With the world in flux, customers rely on current data more than ever to help them find businesses and services. Having up-to-date information such as reviews, contact details, and operating hours go beyond SEO practicalities – it creates a smooth experience for potential clients when browsing online. In 2023, keeping your business' info fresh could be vital to standing out from competitors!
2. Engage on Social Media and Add Posts to Google My Business
Boosting your online presence is crucial – and Google knows it. Your efforts to create a lively, informative GMB will pay off if you spread the word on social media! Making sure that search results are informed by content shared in various networks can help give your business much-needed visibility.
3. Ensure Your Name, Address, and Phone Number are Consistent Online
If you want to be found by potential customers and search engines alike, ensure your NAP (Name, Address & Phone) information is easy for everyone to see. Make yourself accessible so that anyone searching can reach out with ease!
Keeping your NAP in HTML text format helps search engines like Google pinpoint where potential customers can find you. To ensure this, consider adding it to both the header and footer of your website and a 'Contact Us page – resist the temptation to add them solely within images that are not crawlable by search engine bots!
4. Optimize Online Directories and Citations
With accurate and consistent map data essential for businesses to appear in search engine results, United States companies must pay attention to the value of these four powerhouse data aggregators: Express Update, Neustar Localeze, Foursquare, and Factual. 
Everything from Google, Apple Maps, and Yelp to Trip Advisor relies on complete citations – verifying no details are missed or misspelled! With more enormous implications than just a local listing boost, if Google can't decide which information is correct, it may omit your business entirely – so make sure everything checks out across all four providers.
Note: Maximize your online presence by eliminating duplicate directories and investing in a Chamber of Commerce membership. Not only will this boost the visibility of your business locally, but it also creates an authoritative external link for potential customers to find you!
5. Perform a Local SEO Audit
An SEO audit is crucial to ensure that it stands out in the SERPs. This involves checking Google My Business to make sure information appears accurately, using Search Console so crawling and errors don't hinder indexing of the site, and ensuring all on-page elements are optimized correctly with a proper citation audit included. 
It also requires examining how well competitors stack up against you in terms of design structure and content relevance – before finally performing a comprehensive website review. All this combines to give great insight into online visibility performance!
6. Improve Your Internal Linking Structure
External links may seem less impressive than internal links, but it plays a critical role in enhancing your SEO rankings and navigating the web. It helps organize information on your website by creating hierarchies between pages and passes authority amongst them to ensure you get noticed online.
If you're looking for tips on how best to construct an internal link structure that will let your site shine without breaking any of Google's rules, check out Kissmetrics' The Seven Commandments of Internal Linking (for SEO-friendly success)!
7. Optimize URL, Title Tags, Headers, Meta Description, and Content
Publishing content on your site provides numerous opportunities to boost visibility. You can ensure that search engines notice each post through meticulous optimization – from selecting the right keywords for URLs, titles, and headers to crafting compelling meta descriptions. If inspiration is lacking for geo-targeted material specifically, building out profiles featuring customer successes might be the ticket!
Note: Add detailed specifications to your business's assets to maximize success with "near me" searches. This will help you get the most out of local search engine optimization and ensure customer satisfaction!
8. Add Location Pages to Your Website
Make your business stand out by creating location pages that give readers the essential details they need to visit and shop at your brick-and-mortar locations. Your address, store hours, parking/transit information—plus unique descriptions of each spot for an authentic experience. Don't forget to add testimonials from satisfied customers so visitors know what makes you unique.
As a single-location business, creating an About Us page that is locally descriptive can give your website the added boost it needs. If you're looking for even more points with Google Maps, be sure to add one of those to each location page. This way, customers will know exactly where you are and won't need duplicate content from multiple sources.
With Google's ever-growing intelligence and ability to better understand user intent, writers can focus more on the reader than worrying about what search engines need. However, getting in front of a wider audience can be challenging; sometimes, it's best to drill down your content with localized stories that can be shared within an industry or area. For example, become the go-to source for local industry news by creating blog posts featuring events near you, notable employees making waves within their sector and other educational pieces that appeal beyond just selling products or services. 
Leverage the power of local signals to enhance your value to businesses new to town! Create a helpful resource like an interactive map or monthly calendar that connects them with the services and events in their city. Showcase what makes a living here great – introduce people, places, and things they'll love discovering.
10. Ensure Your Website is Mobile-Friendly
Smartphones allow users to discover your business right in their pocket, from searching for product reviews and directions to finding contact info. 61% of all Google searches occur on mobile devices – a statistic only going up as "near me" queries skyrocketed 250% since 2017! Taking the time to ensure your site is optimized across platforms can pay off with increased engagement from prospects and customers alike.
11. Get Inbound Links with Relevance and Authority
Increase your visibility, credibility, and authority on the web with inbound links! From building sponsorships or partnerships to publishing guest blog posts and offering scholarships – there are many creative ways to get high-quality incoming traffic. Start by tapping into connections from your network, like business improvement districts, vendors & affiliates; these may be just what you need for a powerful, impactful digital presence that stands apart from the rest.
Grow your presence in the community by sponsoring events, promoting local interests, and building relationships with key people. Reach out to partners for inclusion on their directory listings and become a guest blogger to attract links. Show you're an active contributor by positively engaging with others in your industry; this will create buzz about you, leading to increased social media growth, more incoming links, and better press coverage!
12. Participate in Your Local Community
Participating in your local community could be an invaluable pathway to success for online presence and PR. From creating campaigns with nonprofits, offering volunteer days within the organization, sponsoring a (virtual) event, or appearing as an authority on media outlets, these options enhance brand awareness and lead generation through an earned press. 
For example: by giving back to aspiring individuals seeking higher education, you can generate essential .edu links that strengthen domain authority while sending positive signals about your business's mission statement! In addition, Moz provides excellent advice on organizing successful scholarship outreach programs, so check it out too!
Local SEO Checklist helps you optimize your online presence and ensure that your potential customers can find you when searching for products and services in your area. Local SEO Checklist also helps businesses maximize customer engagement by providing relevant content tailored to the geographic location of their target audience. As a result, a local SEO Checklist can be a reliable tool to increase website visibility, capture customers across different demographics, and contribute to overall customer satisfaction with your business.
Optimize title tags
Structure your URLs
Optimize your images
Optimize your navigation menu
Have consistent NAP details
Feature complete location data
Use structured data markup
Pay attention to XML Sitemap
Setup 301 Redirects
Create/Claim your Google My Business listing
Provide accurate data on your Google listing
Select business categories carefully
Setup Google Webmasters
Setup Google Analytics
Develop a mobile-friendly website
Create/Claim Bing listing
Create/Claim a Yelp listing
Create/Claim listings on other directories
Check listings on all major directories
Get on niche-specific directories
Get on social platforms
Submit citations to the top 50 sites
Check competitors citations
Remove duplicate citations
Customer Reviews & Testimonials
Monitor and respond to reviews regularly
Look to generate more reviews
Add recognizable testimonials
Website Content & Backlinking
Remove duplicate content
Get Voice Ready
Build quality backlinks
Essential Local SEO & Listing Management Tools
1. Google Business Manager
Every local business owner should take advantage of Google Business Manager—a free and powerful tool for managing your presence on the world's most popular search engine. Formerly known as "Google My Business," it gives you control over how customers find out about your company, from quick info like opening hours to detailed descriptions to attract new potential customers!
Google Search Console is an invaluable tool for web admins to track the success of their sites in terms of search engine performance. With its powerful analytics, you can keep tabs on your website's traffic and discover which keywords bring visitors to your site. It even helps pinpoint opportunities for improvement so that you stay ahead of the competition!
3. Whitespark Local Citation Finder
Online reputation and trust are essential elements for local businesses to succeed. With Whitespark's state-of-the-art citation management services, your venture will be seen in the most relevant online listings, allowing customers to quickly locate you with accurate details like name, address, and phone number. You can even gain insight into how your competition is doing! So take a step towards building valuable relationships through reliable citations today – Trust Whitespark to get it done right!
Get a comprehensive overview of up to 500 URLs from an SEO perspective, complete with an in-depth analysis of links, images, CSS, and script. Find 404s easily or explore the individual H1s and meta descriptions for every page—for free! Access unlimited URL data using their paid version.
Moz Local provides an affordable solution to ensure the right audience on Google and Facebook sees your business. Besides that, its collaboration with data aggregators ensures maximum visibility across all major search platforms – helping you get noticed wherever potential customers are looking!
With Ahrefs, you can enhance your website's authority and make sure it stands out from the competition! First, check for backlinks to see how other sites rate yours – then use comprehensive competitor analysis reports and keyword research tools to give yourself an edge. Finally, with insight into anchor texts used when linking externally, you'll be able to reach a whole new level of success online.
BuzzStream helps you unlock the potential of local influencers to increase your link placements and boost team performance. It allows you to research and track conversations with relevant people in a particular area and analyze data from outreach campaigns for meaningful insights.
BrightLocal is an advanced tool suite that gives local business marketers the needed edge. With features such as review generation and monitoring, search performance tracking, competitor analysis, and explainable reporting — you'll have everything necessary for success! Great for agencies or individual brands looking for top-notch results in their local markets.
Overall, it's evident that local SEO is going to be more critical than ever before in 2023. If you want to stay on top of your SEO game and continue driving organic growth and visibility for your business, implement the tips and tricks I've shared in this guide. My team and I are always happy to help with any local SEO services you may need – leave a comment below or reach out to us directly, and we'll get back to you as soon as possible! Thanks for reading.
Frequently Asked Questions
Author: Md Afraz Alam
I am a full-time Digital Marketing Professional, Blogger, Self-learner, and Marketing Research Analyst. I write about Digital Marketing Strategies, Web Hosting, Word Press, SEO Tips & Tricks, Affiliate Marketing, Tech News & Reviews, Online Money Making, Cryptocurrencies, Social Media, etc.