As an online marketer, blogger, digital marketer, or freelancer, it's essential to stay updated with all the details that go into running a successful website. To help with this, I've created this guide on how to do a site audit. With just a few simple steps and easy methods, you'll be able to quickly identify any issues with your existing website and develop actionable plans for making improvements. 
Whether you're new to doing website audits or have some experience, this approach will help ensure all aspects of your business are running smoothly so you can focus on what matters – growing your business and reaching more audiences!
Site audit means a thorough look at your website to find any opportunities for improvement in terms of performance, content, and structure. Website audit for SEO can involve checking anything from crawling, indexing, and analyzing all pages of the site and fixing problems like broken links to analyzing content quality, the security of the website, tracking performance, and more. 
Essential basic site audits should be conducted regularly as part of an overall SEO strategy. They help identify areas where optimization can be done to drive organic visibility and ultimately reach business goals. 
I know SEO audit for beginners may be time-consuming, but they're worth it to have successful SEO campaigns. Website auditing lets owners assess their website's health, enabling them to make strategic decisions based on solid evidence.
Why Do You Need to Do A Site Audit?
A quick SEO audit is a significant part of maintaining a website in this digital age. SEO site auditing can help improve the visibility of your website on search engines, aiding in its overall performance.
A Site Audit free version also helps to pinpoint areas in which websites are doing well and need improvements, such as content quality and speed. It is essential to run regular Site Audits on your website to ensure it is functioning correctly and efficiently. 
Professional SEO Audits allow webmasters to find any potential problems with their website that they would not otherwise be aware of, allowing them to take corrective action quickly and effectively. 
When done regularly, an audit of the website helps keep the website running smoothly and adapts to changes in the search engine algorithm so that the website remains competitive for searches related to its focus topic or keywords.
How Often Should You Do A Site Audit?
It is highly recommended that you regularly audit your website every 3 to 6 months to check for any potential errors or updates. This will help you keep your WebPages current and relevant, ensuring that the information presented is up-to-date with the latest trends and standards. 
By performing a regular audit of a website with site audit pro, you will get more details, and you will be able to determine whether or not changes need to be made as well as identify weak spots in your content or design that you may need to fix for an optimal user experience. So make sure to get into the habit of regularly auditing your website to ensure its content and layouts are successful!
Benefits of a Website Audit
Benefits of a website audit include ensuring website functionality, evaluating the site in terms of SEO, and enhancing user experience. With regular website audits, businesses can ensure their websites are up-to-date with the latest search engine algorithms for better rankings and visibility. 
Auditing also enables companies to understand better how users interact with their website so that potential issues like menu navigation and broken links that negatively affect user experience can be identified and corrected.
It also helps overall Website Performance Optimization, Search Engine Optimization, Conversion Rate Optimization, Competitive Analysis, Identify Technical Issues, etc.
Types of site audits are the perfect way to identify the areas where your website is succeeding and lagging. Whether you're looking for a comprehensive review of your digital marketing efforts or want to get an insider's view of how your SEO is performing, there's a type of site audit that can help. 
Types such as SEO website audits, Competitive site Audit, SEO Link Audit, Lead Conversion Optimization Audit, social media audits, content audits, usability audits, and more all provide a unique look at various aspects of the user experience. 
Letting a professional evaluate visual design, page speed, page structure, and other elements that make up your website could reveal important insights into what's reasonably working and where you have room to grow.
Website Auditing Checklist
Ensuring that a website is running properly and efficiently is essential to a strong online presence, but the process can be time-consuming.
So having a checklist can ensure that all elements of your SEO on-page audit or off-page are addressed, saving you time and energy in the long run. Website SEO auditing checklists typically include display errors, element alignment, general code hygiene, among other things n more. Following these guidelines, first, you should create an SEO audit plan before going full SEO audit.                                                                                 
1. Define your goals for the audit – what are you trying to achieve?
2. Choose which pages to include in the audit – consider both important and less important pages
3. Collect data about your site. This data will be used to help you identify areas that need improvement.
4. Gather data about each page – use Google Analytics or other tools to get detailed information
5. Choose the right tool for the job. There are a lot of different site auditing tools out there, so make sure you choose one that will fit your needs.
6. Analyze your data and create a report. This report will be used to guide your efforts in improving your site's performance.
7. Remove broken links on your website.
8. Implement changes based on your findings. These changes could be anything from redesigning your website to changing the way you do business online.
9. Use heat maps to check how users interact with content and use Google Analytics to know the average number of visited pages per session.
10. Monitor your progress and adjust as needed. Make sure to keep an eye on your site's performance after making changes to see if they have the desired effect."
What is a site audit tool?
It's a diagnostic tool that helps you analyze and optimize your web traffic performance and discover any potential issues preventing users from having an optimal experience with your website. This can include slow loading times, broken links, coding errors, etc.
There are many site audit tools available free or pro versions, for conducting a website audit. With such an invaluable tool at your disposal, you can easily make informed decisions about your website's ongoing design and development.
Site Audits through Ubersuggest are a great way to gain insights for improving your site. It lets you get the latest SEO metrics on your website, identify competitors, detect optimization opportunities, analyzes backlinks, and more. 
Site Audit can tell you how accessible it is for Google and other search engine crawlers and automation tools, uncover missing content that could help improve rankings, show how keyword-rich your content is compared to other websites in the same industry, and even reveal broken links or images which need fixing. 
With an SEO audit of a website, even those who don't have a lot of technical knowledge on how to make an SEO audit report with clear takeaways help everyone have an equal chance to optimize their website performance. So try ubersuggest for site audit today and see what improvements you can make!
Site Audit through SEMRUSH is here to make your digital marketing life easier! This automated solution collects data from all elements of your website, sheds light on SEO holes, analyzes competition, and more. 
Its search engine optimization Audit feature is designed for individuals and businesses, making it incredibly easy to use and understand. 
With the help of an on-page SEO Audit through SEMRUSH, identify areas of improvement in one quick scan, too – plug in your URL and run a Site Audit! SEMRUSH's Site Audits are comprehensive and can be used to monitor the status of your website while also discovering new growth opportunities.
Site Audit through Ahrefs helps you identify common onsite issues in just a few clicks. It also allows you to diagnose and resolve problems faster, as well as detect content changes, HTML improvements, and more. 
Site Audit with Ahrefs gives you concrete insights into your onsite health so you can make targeted decisions for improvement. So if you're looking for the best tool for a comprehensive site audit, you should consider giving Ahrefs a try.
Site Audits from Neil Patel are essential for SEO success! Whether you're an experienced webmaster or a newcomer to search engine optimization, Site Audits from Neil Patel can help you improve your visibility and rank. Site Audits through Neil Patel will check for issues such as non-relevant content, crawlability, broken links, and more. 
Site Audits also provide detailed recommendations for corrections to ensure your website is prepared to compete correctly in the digital landscape. With Site Audits through Neil Patel, you can rest assured that your website is ready to reach its full potential.
Site Audits with Screaming Frog make it easy to identify issues with your website. With just a few clicks, you can analyze the crawlability problems, page titles and meta descriptions, source code, broken links, and much more. 
Screaming Frog is an excellent tool for understanding your website's health quickly and efficiently. Site audits through the outspoken 'screaming frog' takes all the hassle out of improving the visibility of your website by uncovering any issues you weren't aware of.
Apart from all these listed tools, there are many other website audit tools available online such as GT Metrix, seoptimer, cognitive SEO, seositecheckup, seomater, etc., that you use for a manual SEO audit.
Conducting a website audit is a bit difficult, especially when determining how to perform an SEO audit. Fortunately, there are plenty of guides and SEO audit tutorials out there that can walk you through every step of the process. 
Generally speaking, a website audit will involve analyzing site performance audit, reviewing technical integrity such as accessibility and speed, performing keyword audits and assessing current rankings, evaluating the social presence and backlink profiles, and more. 
In this post, I have tried my best to mention some essential factors on how to audit a website for SEO, which should not be ignored if you are looking for website conversion audit and maximum success to stay ahead in this competitive world. Let's Continue!
1. Run Your Website URL Through a Site Audit Tool
The tool thoroughly inspects your website, identifies areas of improvement, and provides meaningful advice on how to make measurable changes. It's an effective and efficient way to ensure that your website runs smoothly and securely.
2. Find Technical Errors or Check Technical SEO Issues
It's essential to Find technical errors or check technical SEO issues when optimizing for SEO. Technical SEO analysis can reveal many problems you may not have been aware of and are easy to miss. 
Regularly auditing your website to identify and fix these problems will save time and resources and ensure that search engines easily find your content. Technical SEO should be done every few months to keep up with modern algorithms released by search engines as they evolve. 
Failing to audit your website regularly can lead to poor rankings and lost traffic, so it's best to stay on top of potential errors!
Identifying SEO problems can be difficult, especially for those without a technical background. Even for those who consider themselves tech-savvy, there is a lot to learn about SEO to know what potential problems arise and how to solve them. 
A great place to start is by learning SEO basics, such as the importance of keywords and developing unique content. 
Additionally, regularly auditing your web pages can uncover existing issues and make sure future ones are avoided. Identifying SEO problems is no easy feat, but taking some time to create a more efficient website will pay off greatly in the end.
4. Check for Indexing Issues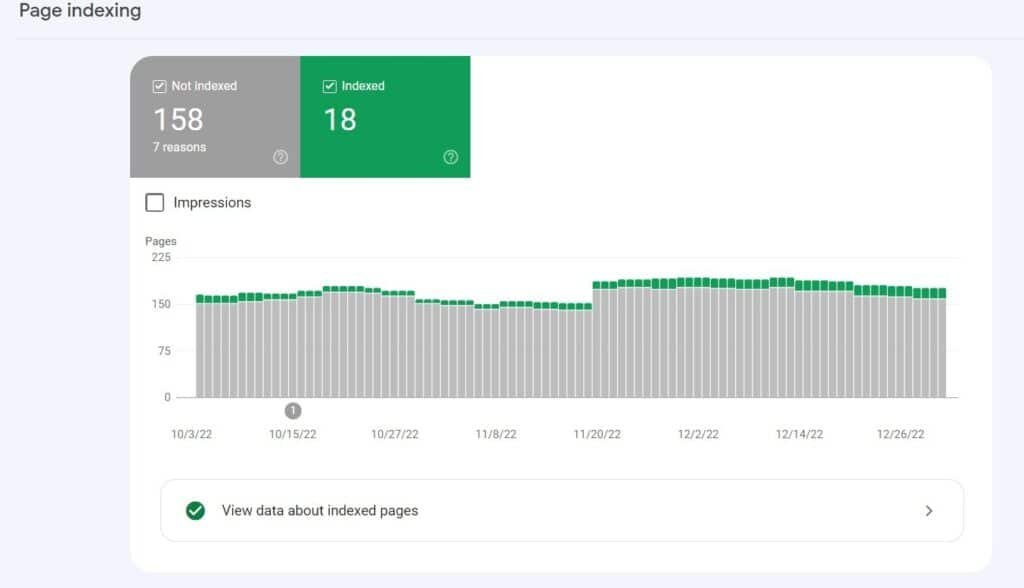 Don't let indexing issues ruin your search engine rankings! Check for indexing issues regularly to keep your website in the best shape possible. Indexing issues can include pages blocked by robots.txt, slow page load speed, and incorrect use of nofollow/noindex tags.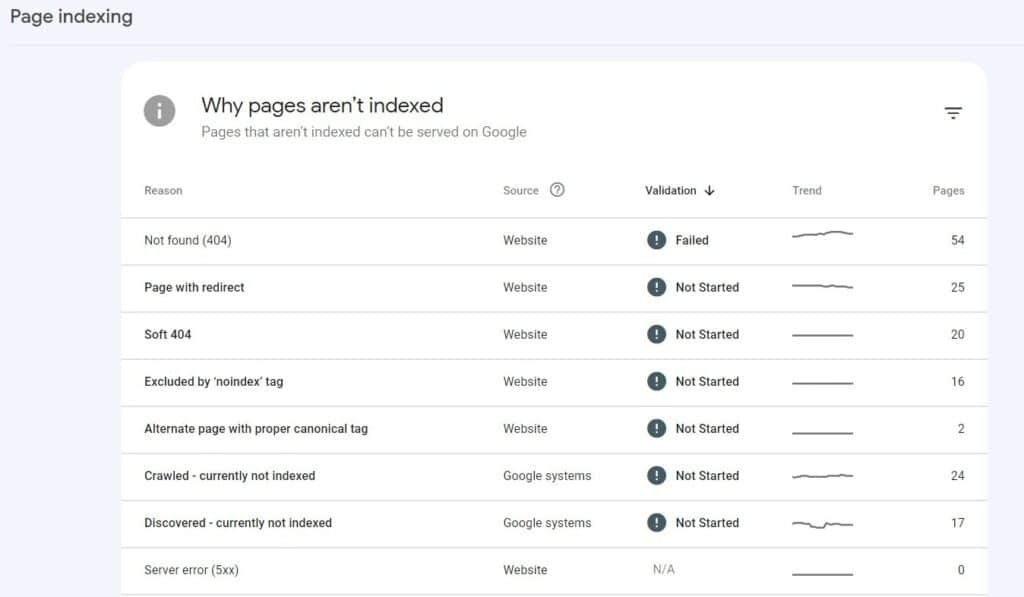 It's essential to stay on top of this – without proper indexing, a website won't appear in search engine results, and its web traffic will go way down. Ensure you regularly check for indexing issues to keep your website users happy and successful!
5. Check for Duplicate Versions of Your Site
Having multiple versions of your website out there can create confusion, not just for visitors to your site but also for search engines. To avoid potential issues, you must regularly check for duplicate versions of your website. 
Check both onsite such as www, non-www, and off-site, such as webpages being shared on social media platforms with different URL formats. While it can be time-consuming, properly checking for duplicates will ultimately save you and your business from a lot of headaches down the line.
Running a site crawl is an easy and effective way to diagnose any issues your website might have. It's like a check-up for your website! This process can help you identify broken pages, improve page speed, and streamline your content for better SEO performance.
Run a site crawl if you are looking for hidden gems of potential on your website; you may uncover easy-to-fix improvements that could positively impact user experience and overall rankings.
7. Check for Manual Actions
Have you ever noticed that your website suddenly ranks lower than it used to? If you can't figure out why it might be time to check for Manual Actions. This is a particular type of penalty that search engines impose, denying any website access to certain features on the machine. 
The consequences vary depending on the offense's severity – from decreasing your ranking, reducing or preventing content from being indexed, or even de-indexing your website. 
Thankfully, if any Manual Actions are found on your website, there are steps you can take to fix them. Take the time to search through different engines or contact professionals who can rapidly diagnose the problem and help provide solutions that will bring your website back in good standing with regulators.
8. Check for Mobile-Friendliness Issues
Having an optimized website for mobile use is becoming increasingly important as more and more people access the internet on their personal devices. Making sure your website handles mobile use correctly is key to ensuring an enjoyable experience for your viewers, but this can be daunting. Checking Mobile-Friendliness Issues makes it easy! 
With no special coding needed and easy-to-follow steps, you can make sure your website is fully optimized for the screen size and technology of everyone who visits—from a laptop to the smallest smartphone. Mobile-Friendliness Issues simplifies this essential task so you can focus on what matters: creating content that engages and connects with your users.
9. Check Basic On-Page Elements
Check basic on-page elements to ensure your website loads and functions properly for visitors. For example, ensure images are loading, links are all working, HTML coding is valid, and page titles are descriptive. This helps users navigate the site and gives them a positive experience when visiting your site. 
Check any contact forms to ensure they're functioning correctly, and take the time to review meta descriptions, headings, and other textual content to ensure they are accurate and up-to-date. Paying attention to these on-page SEO techniques can significantly improve the user experience of your website, so be sure to include them in your regular maintenance routine.
10. Analyze Your Site's Speed
Analyzing your site's speed is one of the most important things you can do to keep your website running fast and smoothly. As the design and features of modern websites get more advanced, page loading speed has become an increasingly crucial metric for success. 
Analyzing how quickly your site loads will give you a better understanding of how visitors experience your content, giving you valuable insights on what you can do to improve your user experience. With that knowledge, you'll be well-equipped to ensure that your website is always running at its peak performance.
11. Analyze Your Core Web Vitals
Analyzing your Core Web Vitals can help identify areas needing improvement in user experience, performance, and optimization. In addition, by taking the time to study where you stand about these metrics, you can get a better understanding of your overall website health. 
With this data, you'll have greater insight into what needs to be done to maintain strong page ranks and customer engagement without compromising speed or other visual elements. 
It will also help you identify problems before they become severe and undermine user satisfaction. Analyzing your Core Web Vitals is critical to any website maintenance strategy!
12. Analyze Your Internal Links
Analyzing your internal links is an important step in optimizing your website to ensure it's functioning properly and directing visitors to the right places within your website. Internal links can refer users to other parts of the same page or even other pages on a website. 
It helps you identify potential problems, like broken links or content that's not relevant. Analyzing your internal links also allows you to get a better understanding of what pages on your site are popular and which ones need more attention. Taking the time to analyze your internal links will help you create a smooth experience for those who visit your website and ensure they find what they're looking for.
13. Check Your Organic Traffic
It's always a good idea to check your organic traffic if you want to stay ahead of the game. Checking your organic traffic helps you better understand how your website is performing and if there are any areas that need improvement. 
Check out what kind of website visitors are coming to your site, and pay attention to any spikes or drops in traffic. It can be difficult to spot these changes, so it's important to make sure you keep an eye on your analytics periodically. 
This way, you'll be able to take action as necessary to maintain (or improve) a high-quality website using organic tactics.
14. Benchmark Against Your Competitors
Benchmarking against your competitors is essential for business success. It creates an ongoing process of gaining understanding and measuring performance over time between you and your competitors. 
It allows for comparing services, products, pricing, customer experience, and marketing strategies to find out what works and what doesn't. 
Comparing yourself to other businesses helps you stay ahead of the trends and remain competitive in the market. Benchmark implements changes to keep up with the latest evolutions in product offerings, consumer demands, and new technology innovations. Doing this will give your company the best chance to find additional growth opportunities.
15. Find Keywords You're Missing Out On
It's no secret that keywords can give your content and website a significant boost. That's why so many businesses take the time to find the right keywords and ensure they are being utilized correctly.
But chances are, you're still missing out on some great keywords. With specialized keyword research techniques and tools, you can uncover search terms that work for your content and offer great potential for optimizing your website for long-term success. Don't let any great words slip through the cracks – find the keyword you're missing out on now!
16. Find Missed Backlink Opportunities
The first step to finding missing backlink opportunities is to closely examine your competition. Look at sites in your industry, and check the links they have to see which ones are the most powerful and effective. You should also look for broken links since these create great opportunities to replace them with your own. 
It is also essential to remember that not all good link opportunities are available on major websites. Searching smaller blogs and forums can also help uncover great options that many competitors need to look into. With some thorough research and effort, you can find Missed Backlink Opportunities for your website.
17. Audit and Improve Your Top Pages
Doing this task can help you save a ton of time in the long run. In addition, auditing and improving your existing pages allows you to get ahead on content creation and have more opportunities to rank higher. 
You can achieve so much more with your online presence by taking an hour out of your day to review, assess and make changes where necessary.
18. Monitor Your Rankings
Keeping track of your rankings is one of the most important things you can do when running a successful business. Monitor Your Rankings gives you powerful insights into how well your content and campaigns perform. You can make adjustments to ensure maximum visibility in search engine results pages. 
Monitoring Your Rankings provides all the data and analytics you need to stay ahead of the competition and ensure your content reaches its intended audience. Don't let valuable opportunities slip away– Monitor Your Rankings regularly and take control of your business's success!
19. Create a Site Audit Report
A comprehensive site audit report can help you identify any opportunities for improvement so your site runs smoothly and efficiently while continuing to attract and convert new customers. 
Create your audit report and create an action plan to address any issues that may be uncovered. As you make the report, be sure to review all technical SEO features like page speed, mobile usability, google analytics tracking, and settings for blog posts, pages, and content. 
Doing so will create a more seamless experience for your visitors, boosting both satisfaction levels and potential revenue streams.
A website audit is vital to the health and SEO of your site. By performing a site audit, you can find issues with your site that you may not have been aware of and fix them to improve your site's ranking on search engines and overall user experience. 
There are many benefits to performing a website audit, including improved SEO, increased traffic, and more conversions. There are several different types of audits that you can perform on your website, each with its own set of benefits. The most crucial part of any audit is creating a checklist so that you can be sure to cover all aspects of your website. 
If you're unsure where to start or how to create a checklist, I've included one in this blog post. So what are you waiting for? Go out there and start auditing!
If you still have any questions or need help conducting a site audit, feel free to leave a comment below and I will get back to you as soon as possible. Thanks for reading!
Frequently Asked Questions
Author: Md Afraz Alam
I am a full-time Digital Marketing Professional, Blogger, Self-learner, and Marketing Research Analyst. I write about Digital Marketing Strategies, Web Hosting, Word Press, SEO Tips & Tricks, Affiliate Marketing, Tech News & Reviews, Online Money Making, Cryptocurrencies, Social Media, etc.