You must be excited and curious to know about Twitter unfollow tools! 
Don't worry; I will introduce all those Twitter unfollowing applications that can help you remove inactive Twitter followers.
Most importantly, all these tools are research-based, not promoting anyone here.   
Creating the perfect Twitter timeline is a crucial step in navigating the crowded kingdom of social media. And understanding the importance of a well-curated Twitter timeline is essential in utilizing the power of this platform to its fullest potential. 
Every individual and brand aims to maximize the visibility of their Twitter profile. 
Previously, to achieve this, brands used a follow-unfollow strategy as long as they followed Twitter's rules on how many people they could follow.
This strategy worked because when you follow someone on Twitter, they get a notification. So, when you followed them, they would check out your profile. If they liked what you posted, they would also follow you back.
Twitter now considers this method a horrible practice since they have updated their follow limits.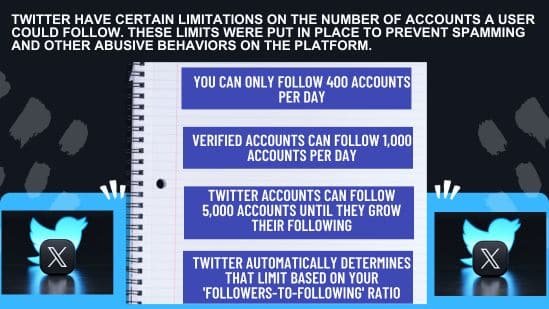 Although these limits are sensible, they can become a hassle if you follow many inactive or fake accounts without realizing it.
Once you hit the 5,000-account limit, you won't be able to follow anyone else.
To know more about Twitter's follow limits, you can check out their official help page.
Now, the question arises here. What to do to avoid this?
There are so many Twitter unfollow tools out there that can help you track followers on Twitter, unfollow inactive users, and clean up your list of followers if unavailable.   
 In this guide, we crack the secrets to curating a timeline that resonates with your interests and objectives while addressing the barriers that frequently appear. We will also learn and Explore Twitter Unfollow Tools in detail.
Let's get Started!
To get the most out of your Twitter feed, checking out Twitter unfollow tools is a step that needs to be executed. 
These tools help you clean up your list of people you follow, ensuring you only see what you care about. 
So, what are Twitter unfollow tools? 
They're basically little apps or features that help you find and unfollow accounts you don't find interesting anymore or who are inactive followers. 
When comparing different ones, it's essential to look at how easy they are to use and what extra stuff they offer. 
That way, you can pick the one that's just right for you and make sure your Twitter experience in 2023 is top-notch.
Best 5 Twitter Unfollow Tools to Find Inactive Followers
At its core, Circleboom provides users a simplified yet efficient way to manage their Twitter accounts. 
This platform allows users to engage in various activities such as scheduling posts, managing followers, and analyzing their Twitter performance through detailed analytics. 
By offering these capabilities, Circleboom empowers users to streamline their social media presence and maximize their impact on the Twitter platform.
One of the critical highlights of Circleboom is its involuntary user interface, which makes it easy for both novices and experienced users to navigate through the platform seamlessly. 
Users can access a wide array of tools, including the ability to identify and remove fake or inactive followers, follow/unfollow users based on specific criteria, and manage Twitter lists efficiently. 
These features enable users to maintain a healthy and engaging Twitter profile, enhancing their social media presence.
How to Make Someone Unfollow You on Twitter using Circleboom
Finding accounts to unfollow using Circleboom is easy. 
You log in, and then you can look for the lists of inactive, overactive, fake, and empty-profile connections.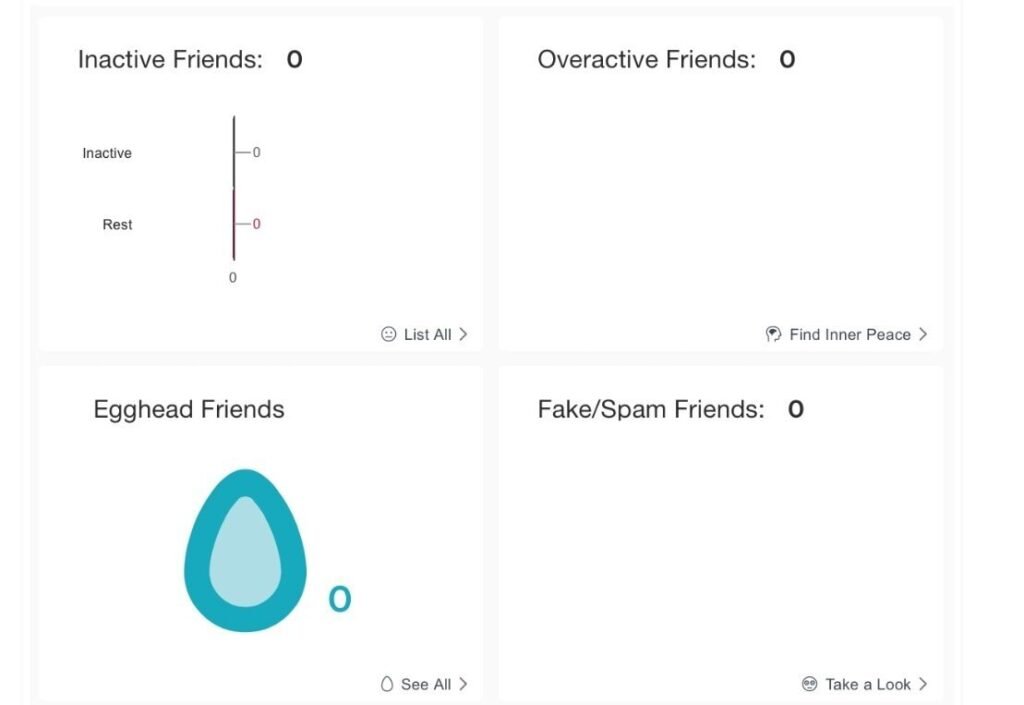 By the way, an 'egghead' is a Twitter account that's not working right now. They usually don't have a picture.
If you want to find people who don't follow you, click 'The Circle' and 'Not Following Back' in the main menu.
Once you've identified those who don't follow you, you have the option to include them in your whitelist, blacklist, or a customized list. 
In addition to this, you can visit their Twitter page and choose to unfollow them.
Audiense offers tools to help users understand their target audiences, optimize their content, and drive better results.
Through this, businesses can gain a deeper understanding of their target demographics, including their preferences, behaviors, and engagement patterns. 
By leveraging these insights, users can tailor their marketing strategies more effectively and efficiently, improving their overall digital presence and performance.
Above all, it can assist in cleaning up your Twitter profile by identifying inactive users, spammers, and other accounts that should be unfollowed.
How to Make Someone Unfollow You on Twitter Using Audiense
Audiense Connect is a helpful tool to manage your community. It can find the accounts you should unfollow easily. 
Just click a few times, and you can see all the accounts you follow that don't follow you back.
You can start by unfollowing accounts individually, just click the red 'Unfollow' button. Or, if you prefer, you can reach out to them with a direct message or add them to a lead group.
SocialBee is like your trusty sidekick for handling all your social media needs.
 It's a super easy-to-use tool that helps you manage all your different social media accounts and keeps your posts organized and on schedule.
With SocialBee, you can categorize your posts so everything stays neat.
You can also recycle your best content so it doesn't go to waste and can keep reaching new people repeatedly. 
Plus, you get to see how well your posts do with all the nifty analytics and reports they provide.
How to Make Someone Unfollow You on Twitter Using SocialBee
You can clean up your Twitter account by visiting the "Audience" page. 
From there, click "Non-followers" in the menu to find accounts you can unfollow.
SocialBee enables you to easily navigate to each account's Twitter page, allowing you to unfollow them manually. 
Additionally, you can include them in your "whitelist" if establishing a connection with them is crucial.
Using filters, you can identify inactive accounts that have not made any posts within a designated timeframe.
It is a platform that assists individuals and businesses in enhancing their Twitter presence, engagement, and overall performance.
Tweepi's main features have historically included tools for managing followers, finding relevant users to follow, identifying inactive or non-reciprocal accounts, and streamlining the Twitter experience.
How to Make Someone Unfollow You on Twitter Using Tweepie
Sign In or Sign Up: Visit the Tweepi website and sign in to your account. If you don't have an account, you must sign up for one.
Authorize Tweepi: After signing in, authorize Tweepi to access your Twitter account, granting the necessary permissions to manage your followers.
Access the "Unfollow" Feature: Locate the "Unfollow" feature within the Tweepi dashboard. Depending on the updates since my last knowledge update, this feature may be accessible from the main menu or through a specific section dedicated to managing your followers.
Find the User: Use the search or filter options provided by Tweepi to locate the specific user you want to unfollow you on Twitter.
Select the User: Once you find the user, select their profile from the list displayed on the Tweepi dashboard.
Initiate the Unfollow Process: Look for the "Unfollow" button or option associated with the selected user's profile within Tweepi. Click on it to begin the unfollowing process.
Confirm the Unfollow Action: Depending on the interface, Tweepi might prompt you to confirm the unfollow action to ensure you're confident about your decision. Confirm the unfollow action if it started.
Verify the Unfollow: Check your Twitter account to verify the selected user has been successfully unfollowed.
Remember that the steps may have changed since my last update, so it's essential to refer to their official site and guides, or the Tweepi website directly for the most accurate and up-to-date instructions on using the platform's features, including the unfollowing function.
This tool is designed to be simple and efficient, focusing solely on assisting you in making decisions about who to unfollow.
How to Make Someone Unfollow You on Twitter Using iUnfollow
Log into your account to instantly access the unfollow option.
To find Twitter users who need to follow you, navigate to the 'Non-Follow Back' page.
Similarly, iUnfollow will direct you to the unfollow tool. Click the prominent red 'Unfollow' button next to the account you wish to unfollow.
Best Practices for Unfollowing Twitter Accounts
When crafting your ideal Twitter timeline, it's essential to know how to unfollow accounts wisely.
First, look for accounts that haven't been active or don't share stuff you're interested in. 
Cleaning these out can keep your feed focused. 
Next, balance the number of accounts you follow with those following you. It helps to keep things real and encourages honest conversations. 
Lastly, make it a habit to regularly unfollow accounts that no longer match your interests or goals. 
This way, you can keep your feed fresh and exciting. Stick to these tips, and you'll have a Twitter timeline perfect for you, with lots of meaningful connections and fun stuff to see.
Managing Privacy and Security Concerns with Unfollow Tools
When using tools to unfollow people on Twitter, it's crucial to take care of your privacy and security. 
Make sure these tools are accessing only what they need to. Keep an eye out for any unauthorized access or risks that could come up. 
Also, look at the privacy policies and terms of service for these tools to understand how they keep your information safe. 
By doing these things, you can use these tools without worrying about your personal information getting into the wrong hands.
Integrating Unfollow Tools into Overall Twitter Strategy
Integrating Unfollow Tools into your Twitter strategy is like fitting puzzle pieces together. 
Make sure these tools work smoothly with your overall social media plan. 
When you decide who to unfollow, think about the kind of stuff you want to share and what represents your brand best. 
Also, watch how your unfollowing decisions affect your Twitter performance. 
Are you getting more likes and followers? Are people engaging with your content more? It's like checking if your changes are helping you reach your Twitter goals.
In the world of Twitter, it's super important to know how to manage your feed to make it right for you. 
With all the great unfollow tools out there, it's easier than ever to customize your Twitter experience and make it more fun and exciting. 
Using these tools correctly and being careful about privacy can make your time on Twitter more enjoyable.
 When you weave these tools into your overall Twitter plan, you can make sure your account is exactly the way you want it. 
As things keep changing online, these unfollow tools can help you have a better time on Twitter in 2023 and beyond.
I am also sharing below some useful blog post links that you can read and get going.
Thanks for reading!
Frequently Asked Questions
Author: Md Afraz Alam
I am a full-time Digital Marketing Professional, Blogger, Self-learner, and Marketing Research Analyst. I write about Digital Marketing Strategies, Web Hosting, Word Press, SEO Tips & Tricks, Affiliate Marketing, Tech News & Reviews, Online Money Making, Cryptocurrencies, Social Media, etc.