Do you want to take your website's traffic to the next level? Are you looking for ways to increase visibility and attract more visitors to your website in 2023? If so, you've come to the right place! I'll walk you through the most popular exercises that will help drive up your website's traffic this year. From initial SEO best practices, content creation tips and tricks, viral link-building strategies, new marketing channels, and technologies, plus lots more – I have covered everything that online marketers, bloggers, digital marketers, or freelancers need regarding how to generate website traffic. So get ready – let's dive into this definitive guide on developing web traffic in 2023!
Websites are like trees in the digital forest- without growth, they will slowly disappear. Having more website traffic is one of the most important ways to guarantee a website can grow. To foster a successful online business or promotion, you must need website traffic of millions.
Driven by an abundance of potential customers and online target audiences, growing website traffic can be one of the most critical objectives for your digital presence.
Investing time in creating strategies helps increase website traffic fast, leading to a whole host of benefits for businesses, such as getting free website traffic, increased organic visibility, greater brand reach, and more leads and sales. 
Well, it's like having more customers coming through your door in real life- the more visitors your website receives, the better it is for brand visibility and potential conversions.
So, If you want to make the most out of your website, it's essential to focus on getting more website traffic and spreading brand awareness about who you are and what you offer.
If you're in the world of digital marketing, then you know that understanding the different types of web traffic is essential for building a successful website. Whether it's organic search engine results from Google, referrals from other websites, or direct visits from people who already know your URL, all of these sources contribute to bringing potential customers to your business. 
But what exactly are each of these types of web traffic? Organic search users find your website by typing a word or phrase into an online search engine. Referrals result from clicks on hyperlinks found in content created by other websites like blog posts and newsletters. 
Finally, direct visits happen when people type your web address directly into their web browser. Awareness of these different types ensures you keep up with the latest digital marketing trends!
Free Traffic vs. Paid Traffic
Free vs. paid traffic: it's a common dilemma facing every business. Free traffic involves building relationships and having a presence on social media. On the other hand, free traffic usually comes from the hard work we put into creating content, from SEO and social media work (sharing your post on Twitter, Instagram, or even YouTube).
While paid traffic involves setting aside a budget to promote your product or service directly through advertisements or sponsored posts. It refers to paying for things like Google Ads and Facebook Ads so that people can see your website or product immediately.
Each has its strengths and weaknesses; free traffic generally takes longer to build up and won't be as easily measurable as paid traffic; however, it may prove more cost-effective in the long run if you're able to establish an engaged, loyal audience that's aware of your brand.
Meanwhile, paid traffic gives you more control over who sees your message but is costlier up front and could use up your entire marketing budget. 
It all depends on what works best for you. It would help if you understood free and paid traffic to make educated decisions when venturing into the online world.
Why is it essential to stay up-to-date with the latest web traffic trends?
Staying up-to-date with the latest website traffic generation trends is an absolute must for any business that wants to remain relevant and stand out from the competition. 
With changing customer demands, industry practices, and search engine algorithms, it's essential to be on top of the latest trends to create effective web traffic tactics. Otherwise, your site may stagnate, or things could slow down.
By incorporating the latest web traffic exercises into your digital marketing strategy, you can attract more visitors, drive more conversions, and thus increase your overall success. 
So make sure to research regularly and implement new ideas with the latest trends to get maximum progress!
Benefits of Following These Most Popular Web Traffic Exercises
Following these proven strategies includes increased exposure, increased engagement with customers and potential leads, improved brand awareness, and the ability to collect valuable information about your audience. 
Not only that, but adopting a data-driven approach through tracking essential metrics will help you to understand how successful (or unsuccessful) your campaigns are and make adjustments accordingly.
Powerful Ways How to Generate Website Traffic in 2023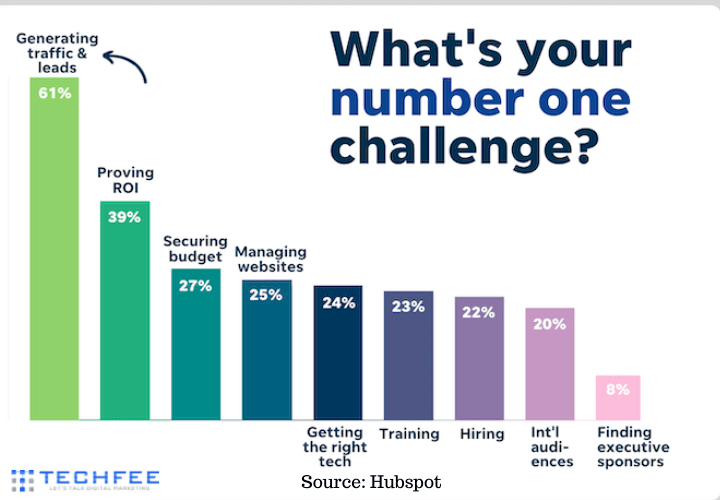 The times are changing, and so is how people generate website traffic. In 2023, there will be powerful ways of increasing traffic to a website, free or through a paid medium, that will help websites stand out from the crowd and gain increased traction. 
Some best ways to get website traffic may include optimizing content for voice search, leveraging video content, creating social media influencer campaigns, investing in a strong SEO strategy, constructing well-planned email campaigns, utilizing location-based technology such as geotargeted ads, and using pay-per-click (PPC) advertisement strategies and more.
How to drive more traffic to your website with content
A blog will allow you to showcase your expertise and knowledge and help build trust and relationships with prospects, offer valuable information to customers, and engage with new audiences. 
Moreover, it can also help boost your website's search engine ranking. A well-crafted business blog can provide readers with fresh and original content relevant to their interests and needs. Consequently, this will give them a reason to come back for more – giving you a better chance of boosting web traffic in no time! So start planning and creating content for your business blog today!
Content creation can go a long way in helping drive more traffic to your website! Whether it's blog articles, photo and video tutorials, helpful tips, or tricks – the options are enormous when creating engaging content.
As long as you are using relevant and engaging content that accurately reflects your company's values and sharing it on appropriate platforms, chances are people will start to visit your site. In addition, once you have set the groundwork, you'll be able to drive more traffic to your website with content creation.
3. Focus on Evergreen Topics People are Searching for
Choosing relevant issues can be difficult. Always focus on what everyone in your target audience would enjoy learning about or find helpful regularly. Posting content on these topics will hit the mark and keep your readers coming back for more! 
Investing time into researching evergreen topics will maintain relevancy and ensure that you're always captivating your audience with accurate and valuable information they can use.
Gaining Topic Expertise is an excellent way to expand your website and attract new visitors. Topic Expertise helps you create content that speaks directly to your potential readers, highlighting the topics they care about most. Investing time in Topic Expertise is vital to growing your website, boosting traffic, and increasing engagement. And this is how to get free traffic to your website.
Not only will it help you differentiate yourself from other websites, but it also allows you to stay ahead of the competition by sharing valuable knowledge that keeps people coming back for more.
5. Fill in "missing" Content Gaps
If you want to increase traffic to your website, one of the most effective ways is to fill in any "missing" content gaps. This could involve adding or updating new topics and pages with helpful information relevant to your target audience.
Look at other websites on the same topic and identify areas that need more information. Then, fill this void with content from your site, and you'll likely start seeing a surge in visitors needing more details or answers. It's a neat trick that works surprisingly well and can make all the difference in expanding your audience and increasing traffic to your website for free.
6. Write Irresistible Headlines
Writing an irresistible headline for a website can be a daunting task. But with the right tips and tricks, it's easier than ever to generate website traffic with these engaging titles.
You want your headline to be both compelling and informative so readers immediately understand what the article is about and what they can expect. Consider using powerful action words, adding humor, offering relevant solutions or insights, and providing helpful advice related to the topic – these will make your headline more attractive to web surfers. 
You need to capture your reader's attention in just a few short words – so don't be afraid to get creative!
7. Invite Others to Guest Blog on Your Site
Inviting others to guest blog on your website is one of the best ways to generate website traffic quickly. Inviting interesting individuals with engaging stories and diverse perspectives provides readers with fresh content, growing their interest in your site and giving them something new each time they visit. 
Guests will also benefit from the exposure and connections from being featured on your website. Invite talented bloggers to reap the benefits for both you and your guests!
8. Create Remarkable Visuals
It's no secret that visuals are a great way to attract audiences, so create remarkable visuals to get more traffic to your website for free! A few visual tips include:
You are promoting your products, services, and content with high-quality images.
I am adding eye-catching graphics.
Illustrations or videos to draw attention, create depth of communication, and craft custom icons to liven up headings.
The possibilities are endless – making an effort to create remarkable visuals will surely drive more visitors to your website.
Incorporating video into your website can be a great way to attract the attention of both existing and potential customers. Incorporating video effectively demonstrates your services or product, explains concepts, and provides customer feedback, bringing more visitors to your website. 
Incorporating videos is becoming increasingly popular and is a great way to ensure viewers are fully engaged with the content they are presented with. By providing relevant content within the video that directly speaks to your target audience, you can guarantee that they'll stay longer on your webpage and take action by opting into emails, downloading ebooks, or expanding their brand knowledge.
This is how to bring traffic to the website organically; therefore, incorporating video within your website content is the best way to generate traffic.
10. Have a Resource Center
Have you started your website and wondering how to get millions of traffic to your website? Have you ever considered creating a resource center? This can be an excellent way to draw more people's attention to your website and engage them further.
A resource center is essentially like a digital library, filled with all the content relevant to your website's offer – such as ebooks, articles, templates, help documents, checklists, etc. 
After becoming familiar with these resources, potential customers may feel more confident about using your products or services. So have a resource center for your website today and see the positive difference it will make!
How to Grow Website Traffic with SEO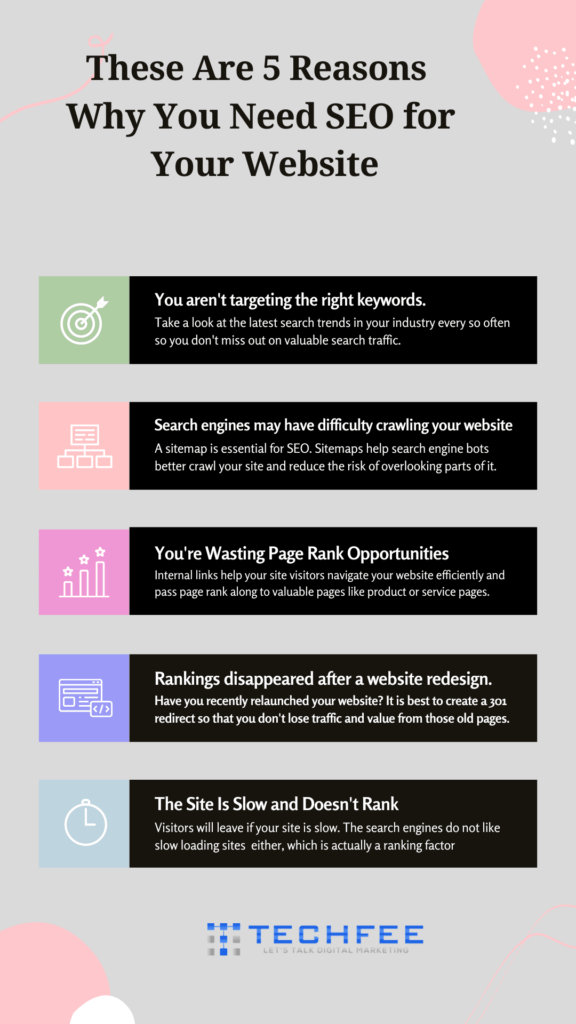 11. Optimize Your Free Google Business Profile
Optimizing your Google Business Profile is one of the essential steps to generating website traffic and standing out against the competition. Setting up your profile is simple:
Create a business account.
Provide all the requested information.
Add photos and videos.
Manage customer reviews.
Once you have done that, make sure everything is up-to-date! 
Doing this makes your profile look more professional and allows customers quick access to store hours, contact information, products/services offered, etc. So optimize away because it's free for all businesses—you've got nothing to lose and plenty of potential customers to gain!
12. Create Targeted Landing Pages
If you've ever wanted to gain traffic to your website and generate more leads, creating targeted landing pages can be more beneficial! Landing pages capture your ideal customer's information in exchange for a downloadable offer.
They can be effectively used with other channels, like PPC and Social Media Ads, to drive website visitors and boost conversions. When done right, the higher the conversion rate of your landing page, the more valuable it will become to your business. 
So, start getting creative with your offers and see where you can make improvements to create detailed targeted landing pages to drive even more traffic!
13. Target Short-tail And Long-tail Keywords
Generating free website traffic to your website is an excellent way to help promote your business and drive sales. Targeting short and long-tail keywords should be your first step in ensuring that you reach the right people and get results. Short-tail keywords, such as "red shoes", are usually broad search terms that can generate a lot of website visits but don't necessarily bring the most qualified leads. 
On the other hand, targeted long-tail keywords – something more specific like "men's red leather dress shoes" – can help capture highly qualified visitors for the products or services you're offering. Putting effort into researching and using both types of keywords will ensure that you create an effective SEO strategy and increase website traffic without spending a dime.
14. Place Your Keywords Strategically
Investing in the correct keyword strategy can mean the difference between thousands of visitors and none. Place your keywords strategically within the content of your website, making sure they are relevant to the topic and synced with what users search for. 
This will help you achieve higher organic rankings in Google, which leads to more views on your web pages and, ultimately, an increase in traffic for your website. When done correctly, a keyword strategy should be an easy and rewarding process that helps unleash endless possibilities for success.
15. Optimize Your SERP Appearance
Optimizing your search engine results page (SERP) appearance is vital to help grow website traffic, but it can be a complex process. Optimizing for the SERP requires an effective strategy to ensure you appear in relevant searches. 
This should include keyword research, utilizing backlinks, and optimizing on-page SEO techniques. Researching and aligning each element properly is critical to boosting the site's visibility, attracting more potential customers, and growing website traffic.
16. Voice Search Optimization
Voice search optimization is one of the most reliable methods to help your website grow. It allows your website to be found easily by users using voice-activated search tools when looking for content within their search engine. 
Voice search optimization increases your chance of being seen in the organic results, thus offering more potential for organic growth in traffic. In addition, you can significantly and quickly build a more extensive customer base with minimal effort by ensuring you meet all the requirements for voice search optimization and optimizing your content according to the rules. 
Voice search optimization is essential to any website's digital marketing strategy. So, consider adding voice search optimization into the mix SEO strategy to grow your website traffic!
Optimizing your local SEO can be overwhelming, but it is worth the effort if you want to grow your website traffic. By focusing on local SEO, you are giving potential customers a chance to find you more easily. 
Optimizing your content with localized keywords, registering with Google My Business, and creating backlinks from local websites can help improve your chances of appearing in search engine results pages (SERPs). 
It may take some time and effort, but optimizing local SEO will give you the best return on investment and will lead to increased website traffic.
A/B testing is an invaluable tool often used to grow website traffic. It's an experimentation process designed to determine which versions of content, photos, and videos appeal the most to viewers. A/B testing can help you better understand your product, design, or service and what resonates best with your audience. 
A/B testing allows companies to improve their website performance and content by collecting user behavior data to optimize for maximum conversions and engagements. Whether you're a beginner just starting A/B testing or an advanced user wanting more insights from A/B tests, A/B testing is essential for any website owner looking to grow traffic on their site.
By creating internal links across your website, you're providing visitors with more information about related topics – helping them quickly find what they are looking for and seamlessly transition from one page to the next. 
Linking internally also gives search engines more signals about which pages are essential, allowing them to expand their reach and lead more potential visitors back to your website. Internal links help people navigate your site and boost your rankings in organic searches, which is how to increase website traffic organically. 
So remember the importance of linking internally, and start harnessing the power of internal links today!
20. Improve Technical SEO
Improving your technical SEO is the way to go if you want to drive traffic to your website. SEO stands for search engine optimization and is the process of optimizing content for search engines like Google and Bing. 
By improving your technical SEO, you'll be able to ensure that your website is indexed correctly by Google, leading to more people finding and visiting it. Improve things like page speed, optimize images, links and titles, use intense keyword research and focus on creating an accessible website – all of these will help with organic search traffic and boost the visibility of your website.
21. Improve Your Page Speed
Improve your page speed, and you'll keep more customers around. Studies have shown that if a site takes longer than 3 seconds to load, 53% of visitors will abandon it. Even worse, when pages take over 5 seconds, the bounce rate increases an incredible 63%. 
Improve your site's page speed, and you'll see more visitors hanging around instead of clicking elsewhere. You can test page performance using various tools, so choose the one best suited for your website. Improve your page speed to drive traffic and engagement to your website!
22. Make Your Site Responsive
If you're looking for the cheapest way to drive traffic to a website, making it responsive is the way to go. A responsive website design means that the website automatically adjusts itself based on what device is being used to access it. 
This ensures that no matter which device is used, your site will load quickly and look great every time. Visitors will have a better overall experience when accessing your site, meaning they'll be more inclined to stay longer and return in the future. 
Ensure your website is responsive to ensure a quality experience for all visitors; this will help increase traffic and engagement! Therefore, you must provide the potential customer can use and navigate around your website by making it responsive, as this is an essential aspect of having a successful site.
23. Implement Schema Markup
Implementing Schema markup is an easy way to increase website traffic free and one of the essential technical SEO techniques. Schema markup works by providing search engines with structured information about your website. This helps them display specific pieces of data, such as ratings and prices, in the search results, which can draw in more interested visitors. 
This SEO optimization is straightforward to incorporate into all sorts of websites – from tiny blogs to large eCommerce stores. However, it takes a little time to understand the basics behind schema, then add tags to the existing HTML elements on your site using a plugin or manual setup.
24. Regularly Refresh Your Content
Regularly updating your website content is one of the best ways to keep a steady stream of visitors returning to your page. It doesn't matter if you're a small business or an international corporation; staying relevant and ensuring your website consistently delivers fresh, new materials encourages visitors to come back repeatedly. 
Regularly refreshing website content is also great for search engine optimization (SEO), as it can help increase the potential for users to discover your site when using search engines like Google. So, for those looking to generate traffic to your website, make sure you're regularly refreshing your website's content.
Gaining backlinks can be one of the most powerful offline marketing strategies to generate website traffic. A good backlink is essential because it helps you gain credibility and high search engine rankings on Google, Bing, and Yahoo's search results pages. 
Always focus on getting backlinks from websites related to your niche or industry, as this off-page SEO technique will give you the best return on investment. Also, ensure the websites you link to have high-quality content and a reputable reputation. 
It's also essential to track how many backlinks you have gained to measure their effectiveness. With high-quality backlinks, you can quickly increase website traffic and get more visitors interested in what you're offering.
26. Google Maps Advertising
Google maps allow you to place targeted ads in areas most relevant to your business, helping you attract audience members likely to be interested in your website. You can also create promotional images and videos and allow Google users to leave reviews about your business—another fantastic way of driving even more attention toward your site! 
Google map is an excellent tool for small businesses trying to increase their online presence; it ensures people can quickly find the information they're looking for while promoting specific content tailored to their Google Ads preferences. You can also show local search ads on Google Maps.
27. Optimize for Google's Mobile-First Index
Optimizing for Google's Mobile-First Index is a great way to get more people to your website. Having an optimized mobile site is essential in today's digital world if you want to make an impact. Optimizing vital elements like the size and speed of pages helps create a user experience that is fast and easy to use. 
Focusing on this crucial element will drive more traffic, leads, and conversions using SEO techniques tailored to mobile users. Make sure your content looks excellent whether someone visits your site from the office or on the bus – with some optimization; you can make sure your website is reaching the full potential of its audience!
Website analysis can give you insight into meaningful information such as the number of visitors to your site, sources of your traffics, and which pages are performing best. This valuable information can help you decide which posts or content to prioritize, optimize pages for better results, and plan outreach strategies accordingly. 
Website analysis offers tremendous potential for driving traffic and improving the user experience of your website. So make sure you take advantage of this powerful marketing resource through a thorough website analysis!
How to Get Thousands of Visitors to Your Website Without SEO
Content Marketing is a great way to get hordes of readers to your website, even without SEO. Content Marketing techniques utilize existing platforms like social media and online communities to spread the word about your content and get users to your website. Content that is informative, entertaining, or inspiring tends to attract more attention and leads people back to your website. 
These potential viewers could become long-term customers if you consistently deliver high-quality content that engages readers. Content Marketing requires dedication and consistent effort, but the result of getting thousands of visitors can be worth it!
Paid ads are a great way of quickly gaining exposure for your website without devoting the time and resources necessary to rank higher in search engine optimization (SEO). Rather than relying on organic growth and ranking, you can generate thousands of visitors simply by setting up an effective paid ad campaign. With the right combination of keywords, targeting, and budgeting, you'll be able to direct vast amounts of traffic to your website within days.
Experienced marketers know that there are many advantages to launching a paid advertising campaign, helping you get the edge over competitors. Paid ads don't have to be expensive either – many options available can help businesses save money while still generating results. You must try using paid ads to get thousands of visitors to your website without SEO today!
31. Social Media Strategies
Social media strategies can connect you with potential customers, increase web traffic, and build brand awareness. It can be a great way to direct thousands of visitors to your website without relying on the labor-intensive process of SEO. 
Instead, you can use creative campaigns, attractive visuals, and engaging content to draw attention to your page and attract new followers who may eventually become customers. In addition, social networks are populated by millions of users eager for new experiences. With a few well-crafted social media strategies, you can easily tap into this vast audience and drive people to your website.
32. Link-Building Strategies
Link building is undoubtedly one of the essential aspects for any website looking to increase its visitors. It's a great way to reach new viewers and keep existing ones engaged — but sometimes more than SEO is needed. 
Fortunately, you can use many Link Building Strategies to get thousands of visitors to your site without relying solely on SEO. 
Whether you use popular mediums like podcasts and influencers or create a content strategy focused on "thought leadership," Link Building Strategies outside of SEO can help you garner more traffic on your website and draw in an audience that would've otherwise been unaware of your page. So don't miss out!
33. Interact With Other Blogs
Interacting with other bloggers or blogs is a great way to get thousands of visitors to your website without using SEO. By interacting, you can build crucial relationships with influencers in your niche and leverage their reach to give your website a big jumpstart.
The same goes for any social media platform; you can organically drive thousands of people to your site by regularly engaging with peers, industry professionals, potential customers, and more. Moreover, interacting with others doesn't have to be complicated or time-consuming – even the most minor effort could go a long way toward achieving your goal!
Email marketing is a potent and effective tool for any business wishing to increase website visitor numbers. Without having to resort to SEO techniques that can sometimes be costly and time-consuming, email marketing offers the potential to get thousands of visitors to your website in relatively short timeframes. 
Email campaigns allow you to reach out and target potential audiences that have already expressed an interest in your products or services, quickly and efficiently promoting your business with personalized messages. 
Email marketing also allows businesses to track how many people have read their emails and gain valuable insights into customer behavior so they can modify their approach as necessary. If you want thousands more visitors to your website without SEO – then it's worth considering setting up some email campaigns.
35. Provide Excellent Customer Service and Ask Customers to Review Your Brand
Making sure your customers have the best experience possible with your business-critical to success. Providing excellent customer service and consistently asking your clients to review your brand should be a priority for any company. 
Not only does it show that you value their opinion, but it also helps create good engagement on your website and get massive traffic without relying solely on SEO practices. It's no secret that satisfaction from happy customers can go a long way in promoting your online presence. So make sure to thank them for taking the time to review and for helping build your business!
If you want detailed information on how to get traffic on your website without SEO, you must go through this article which Neil Patel has published.
How to Increase Traffic on a Website Using Social Media
36. Promote Your Content on Social Media Platforms
Promoting your content on social media (Facebook, Twitter, LinkedIn, Pinterest, and Instagram can be a great way to increase the traffic on your website. It's an incredibly effective strategy that allows you to reach a larger audience, bringing in new and interested viewers. 
There is no one-size-fits-all approach to using social media. Instead, you can craft specific strategies for each platform that best fits your content; for example, hashtag campaigns for Instagram or promoted tweets for Twitter. 
Get creative with it – play around with settings and features that are best tailored for what you're aiming for. It's also important to be consistent with content – ensure you're providing something that interests your audience enough to spread it around and drive more traffic.
So make sure you post consistently, use relevant hashtags, engage followers and keep content captivating. Promoting your content on social media can be challenging, but the rising number of hits on your website will be well worth it!
37. Value of Adding Hashtags#
Using social media strategy can help you dramatically boost your website's value. By adequately utilizing hashtags with keywords in your posts, you can increase the web traffic your page receives. 
Not only will adding relevant keywords to your posts make them more discoverable, but it will also help people stay up-to-date with new or timely information associated with those terms. 
This strategy is simple, but it's incredibly effective and can give you a serious advantage when trying to maximize the value of your website through social media.
By strategically targeting information-rich outlets such as industry websites, trade associations, and online magazines, you ensure that the target audience for your message is already in place. Target amplifiers offer the perfect combination of cost efficiency and control over who sees your message, making it easier to attract exemplary visitors and turn them into customers.
This strategy can help effectively reach more people and generate more interest in your website and brand through your existing customer base, influencers, or highly targeted campaigns.
If it's done correctly, target amplifiers have the potential to grow your reach exponentially and convert casual visitors into dedicated customers. So if you're looking for a great way to drive people directly to your site, a target amplifier is one of the best tips to generate more website traffic.
39. Post Native LinkedIn Articles
Posting native LinkedIn articles is an effective way to reach more people. This can result in increased traffic to your website and more potential customers. People are naturally curious, and creating well-written, exciting content can be a great promotional tool for yourself or your business and help generate interest in the topic being discussed. 
Posting directly on the platform has benefits beyond just increased engagement: it allows for more organic visibility in the News Feed when others share or comment and can also be seen via keyword searches within the platform. With its large user base and influential audience, showcasing your business through LinkedIn makes for a powerful marketing strategy.
40. Interview Industry Thought Leaders
Interviewing industry thought leaders is an excellent way to bring more visitors to your website. Interviews are especially effective when they focus on answering potential customers' questions regarding your business's product or service. 
In addition, discussions can help boost traffic to the website by showcasing the knowledge and expertise of thought leaders in the field, demonstrating their authority, and buying influence in the eyes of potential customers. 
Additionally, interviews provide a personal touch that can help develop relationships with readers, leading to increased website visits. With just a tiny investment of time, interviewing industry thought leaders could be a great way to promote content and drive people toward your site.
Social News Sites can be an effective way to increase web traffic for any website. Social media is a heavily trafficked niche, with billions of users day and night, sharing content and interacting online! Social Networks and Social Bookmarking sites such as Facebook, Twitter, Pinterest, and Reddit can provide quality referral traffic to your site. 
When you post content to these Social media sites that link back to your website, it can draw large audiences that were not previously aware of your business or your website. Social News Sites are essential for driving organic engagement and traffic and growing the potential customer base for any business.
42. Add Social Share Buttons
Giving users the ability to share your website content with their friends and family is one of the best ways to increase traffic and grow your online presence. By adding social share buttons to your website, visitors can quickly spread the word about your products or services by sharing them with the click of a button. 
Not only does this boost brand awareness, but it also leads to increased engagement with current and new potential customers. Social share buttons are an easy solution that can significantly impact the number of visitors visiting your website.
CTR optimization is one of the best strategies to increase your website's traffic. CTR stands for click-through rate, an essential metric for assessing how well your content influences visitors to act on it. By improving CTR, you can optimize ads and other content to index higher in search engines so that more people will be exposed to your message. 
CTR optimization also enables websites to identify target audiences better, increasing their visibility in searches that drive website visits. CTR optimization can be complicated, but strategic changes can make all the difference in driving website traffic quickly and effectively. 
It may require time and effort, but CTR optimization could be a great way to boost your website's traffic numbers if you take the proper steps.
44. Research The Competition
Researching the competition is a great way to get an edge and increase traffic on your website. In addition, doing some good old-fashioned competitive analysis is an effective way to identify areas of improvement in your website that can help create more engagement and drive more traffic. 
Researching what your competitors have done right (or wrong!) will give you insight into the type of content, products, or services that resonates with their target audience so you can apply it successfully to your website. 
Researching the competition doesn't have to be complicated: look at competitors' website design, content, and even keyword usage – these tactics might help you outrank them. 
So feel free to do a deep dive – research where your competitors are strong, focus on improving and creating better experiences for your visitors, and watch how your web traffic numbers skyrocket!
45. Post at The Right Time
Posting at the right time on your website and social media can boost your online presence incredibly. Posting when there's a lot of activity on social media platforms will ensure that more people see and engage with your content.
Understandably, this can be hard to predict; however, you can use analytics to develop a sense of when the highest level of traffic is occurring. This might involve checking web analytics regularly or relying on scientists who track usage patterns to determine peak times. 
Taking the time to find out when the most people are active on your website or social media platforms will pay off-site visits increase, and more exposure will generate even more traffic. So post at the right time and watch your website soar!
More Proven Ways to Generate Traffic on a Website
46. Get listed in Online Directories
Get listed in online directories to increase your website's traffic. When you record yourself in online directories, it means that potential customers will be able to find you among your competitors easily. 
From there, these visitors are more likely to become active members of your website or get converted into loyal customers. And the best part is that this tactic doesn't require a significant investment – listing your business on online directory sites is often free or only requires some nominal charges. 
In addition to providing valuable exposure and increasing your web presence, listing your site in an online directory helps generate leads by ensuring potential customers are aware of your business. 
If set up correctly, these directory listings will ensure better visibility and more accurate information when crawled by search engines, leading to increased overall website traffic.
Video marketing is an effective way to connect with potential customers and increase traffic to your website. Video content is entertaining, informative, and memorable compared to traditional forms of content like text or images.
You can create engaging video content, such as tutorials, product reviews, interviews, or stories that showcase your company's personality and vibe. 
Video is also great for emotionally connecting with people. It helps customers get to know you better, understand your brand, and builds trust in your services. Even if viewers don't take any action in response to a video after watching it, it still helps humanize your brand and encourages them to come back.
Video marketing can offer impressive ROI and help move prospects further along in their customer journey with you.
Hosting webinars can be a great way to drive traffic to your website. They provide helpful and relevant information to your audience and allow people free access to you and your brand. 
In addition, hosting webinars allow you to delve into in-depth topics important to you and your target audience.
Not only do webinars help people become more familiar with your services and products, but they also have the potential to provide valuable leads – just one successful webinar can multiply your information and even increase sales. 
In addition, hosting webinars is an easy, efficient, and cost-effective way to reach a large audience at once.
49. Collaborate With Influencers
Collaborating with influencers is an excellent way to bring high-quality traffic to your website. Influencers can reach a broad audience on platforms such as YouTube, TikTok, and Instagram, allowing you to tap into their network of followers. This will help you create an engaged audience of potential customers who already like and trust the influencer recommending your site. 
Making sure the influencers represent your brand with authenticity and integrity is essential when carrying out this collaboration. However, it can be mutually beneficial for both parties involved; influencers benefit from introducing their followers to a well-respected brand, and you attract new visitors to your website. Collaborating with influencers could be what you need to gain an edge in your industry!
50. Start An Online Community
Starting an online community is simple: creating a private group on social platforms and inviting like-minded people worldwide to join the discussion. 
Through this community, you can share content, answer people's questions, or let members get to know each other better. You'll wonder why you didn't create it sooner once you start getting more involved in these conversations – the potential of having an active online presence should never be underestimated.
Once your goals are set, focus on creating engaging conversations and encouraging friendly relationships with your participants. Doing this requires communication, discussion topics, and strategies tailored to the target audience. Establishing a community can take time, but investing in it will help to improve customer loyalty and create more web visits!
Podcasts are becoming increasingly popular and a great way to generate traffic on your website. In addition, the ability to record audio episodes at home makes them more accessible than ever. Whether you're a brand new business or an experienced voice in your niche, creating podcasts is a great way to get noticed and established. 
They can help draw potential customers or clients to your website, broaden your reach to a broader audience, and quickly establish thought leadership within your industry. If you've been considering utilizing this powerful tool but need help knowing where to start, consider speaking with experts in podcasting who can help you create an effortless framework for success.
52. Media Coverage And Public Relations
Media coverage and public relations can be incredibly adequate when it comes to generating traffic on a website. However, when appropriately managed, positioning your business favorably through media outlets can improve visibility and result in more people checking out what you offer online. 
Media coverage and PR allow you to put your best foot forward and illustrate why your website is unique or essential, a vital element of driving visitors back to the page. With effort and commitment, these strategies can yield excellent returns.
53. Participate in Forums
Participating in online forums is an excellent way to generate more traffic for your website. Participating in conversations with other like-minded people about topics related to your product or service can help you build relationships, share knowledge, and drive more visitors to your site. 
Getting involved in these discussions regularly will position you as an authority in the field and improve your search engine rankings. Plus, it's a great way to engage your visitors and interact with each other, making your website even more popular. 
So remember to take advantage of forums when trying to generate more traffic for your website – it's a fun, easy, and effective way to promote yourself and increase visibility online.
Attending conferences to generate traffic on the website is an excellent way for small businesses to get their message out worldwide. In addition, it's an ideal platform to network with industry professionals, peers, customers, and potential clients. 
By attending these events, you get direct access to the ears of people who are active influencers in your field or business domain. Attendees are attentive and eager to learn about new products and services that can make their lives easier. 
Attendees will also be open to taking away tips and suggestions to help them in their projects or goals, which will naturally drive more traffic to your website. 
Attending conferences regularly thus provides a fantastic opportunity for small businesses to reach out directly to their target audience while building valuable relationships with key industry players.
55. Submit Your Content to Aggregator Sites
Aggregator sites are those that collate information from a variety of sources in a single location. Think of them as the librarians of the digital world. They are websites that do the hard work of searching and collecting content from many other websites, saving you time with all the heavy lifting already done.
Submitting your content to aggregator sites is a great way to generate traffic to your website. Aggregator sites serve as online platforms where you can share any content, such as videos, images, podcasts, etc., so there is no restriction on what you can upload. 
Additionally, promoting content on aggregator sites will make it easier for potential users to find and explore your brand, which may increase the number of visits to your website. 
Through aggregator sites and online presence, it's possible to engage an extensive range of audiences and help spread greater awareness about your business.
56. Start An Email Newsletter
Did you know that an email newsletter is one of the best ways to boost traffic on your website? Keeping your customers informed about new products and services, promotions, discounts, and more will generate more interest in your brand and help drive more potential customers to visit you online. 
Start an email newsletter today and watch as website traffic increases. With a little effort, you can take customer engagement to the next level with regular updates.
57. Reach Out to Email Newsletters
With email newsletters, you can reach dozens or hundreds of potential customers with one click. Plus, you can customize each message specifically for the audience and send them quickly, so it's a great way to ensure the right people hear your message.
An effective newsletter campaign should be carefully planned, reach the right people, and contain messages that respond to their needs. An informative and engaging newsletter will create a long-term relationship with your subscribers, who will eventually become loyal visitors to the website. 
Reaching out to email newsletters also helps build a good reputation for your brand and provide value to potential customers.
Create a free, user-friendly tool to increase website visits with just the click of a button. It's simple, straightforward, and free! There's no need to purchase expensive advertisements or complicated software – this tool does everything for you.
It will provide value to your users by helping them with their tasks, and it could help your bottom line by bringing more visitors and leads to your website. 
To create such a tool, consider what would be helpful for your target audience and what problem it could address. Then, with a firm plan in place, you can create the ultimate free tool and open the door to increased traffic!
Online advertising is becoming an increasingly popular way to drive traffic to websites. Online ads can be tailored to target a specific audience, suggesting products or services that appeal to them and generate more business leads. In addition, online ads can reach customers worldwide without limitations, which means businesses can access virtually any market. 
Not only that, but online advertising campaigns can be highly efficient, utilizing a budget-friendly approach to marketing and maximizing your company's most valuable asset – its time. Online ads are one of the most effective ways businesses increase web traffic and get their name out there. So why not give it a try?
Adding an FAQ section to your website can be a great way to generate more traffic and boost your SEO. Not only does it create helpful content, but it also allows customers to find answers to their questions quickly. 
An FAQ page can bring visitors back again and again as they look for answers, ultimately driving up overall website visits and engagement. When constructing an FAQ page, ensure it focuses on meaningful topics relevant to your audience – it should provide helpful information in a friendly, casual tone.
Tools to Help Drive Traffic to The Website
61. Track SEO Metrics in Google Analytics
Generating traffic to your website with SEO can be difficult, but tracking your SEO metrics in Google Analytics can make the process much easier. Taking advantage of the built-in features that Google Analytics provides can help you monitor your website's performance and track changes over time. 
Through consistent measurement, you'll be able to track how keywords, backlinks, and other SEO strategies impact your website's traffic over time. 
Knowing exactly where you stand will allow you to adjust your strategy on the fly and constantly stay ahead of the game by improving upon what works and refining what doesn't. Set up GA4 and track SEO metrics in Google Analytics today to generate more traffic for your website!
62. View Your Queries in Google Search Console
Viewing your queries in the Google search console may be one of the most powerful tools in driving website traffic. In addition, by viewing your questions, you can better understand how people use Google to find and interact with your website. 
You can also use the information to identify ways to optimize your content so it ranks higher and more often on search engine results in pages. Ultimately, taking advantage of this Google Search Console tool setup can save you time and give you an instant boost to both short-term and long-term organic traffic on your website.
63. Analyze the SERP With SEO Tools
Analyzing the SERP with SEO tools is a great way to increase traffic on your website. This easy-to-follow process helps businesses understand how well their website ranks in organic search results, giving them an idea of which areas need improvement. 
Analyzing the SERP provides insights about what areas are doing well and which require more attention or optimization so that users can more easily find and access your content. By investing some time into analyzing the SERP with SEO tools, businesses can ensure they receive maximum exposure and boost their website's chances of success.
64. Audit Your Site With Website Audit Tools
Conducting a website audit is essential for uncovering any issues related to SEO, performance, link building, and more hindering your website's growth. Audit tools offer functionality such as crawl analysis, broken link repairs, and keyword optimization to create the best overall user experience on your website. 
With comprehensive insights into what is hindering users from having a better experience on your site, you can make informed decisions to drive traffic back. Audit your site at least quarterly with these helpful tools and take control of the success of your online presence so that more visitors may come.
65. Avoid Instant Website Traffic Generators
Avoid using instant website traffic generators at all costs. Not only are they expensive and ineffective, but they can also damage your website's reputation. 
These services will provide you with low-quality web traffic, which can result in poor web performance and even a Google penalty. Furthermore, the traffic will come from something other than real people or customers who care – it will be from automated bots and scripts that are unlikely ever to convert. 
Invest your time in more sustainable tactics such as SEO, content marketing, social media campaigns, email marketing campaigns, and improving user experience on your website; these methods provide higher quality visits over time that lead to conversions. 
Avoid the instant website traffic generator route and focus on building genuine relationships with actual customers who can help take your business to the next level.
This guide helped me understand some of the most popular ways you can generate website traffic in 2023. Of course, there's a lot to consider and consider when it comes to driving up traffic, but with consistency, dedication, and hard work – you'll get there. 
If you still need clarification about any of the strategies or concepts discussed in this guide, let me know in the comments below, and I'll be happy to help. Good luck on your journey to generating more web traffic!
Frequently Asked Questions
Author: Md Afraz Alam
I am a full-time Digital Marketing Professional, Blogger, Self-learner, and Marketing Research Analyst. I write about Digital Marketing Strategies, Web Hosting, Word Press, SEO Tips & Tricks, Affiliate Marketing, Tech News & Reviews, Online Money Making, Cryptocurrencies, Social Media, etc.